Intermediate Spill Training
Argyle Commercial Intermediate Spill Response Course
Course Agenda (4hrs)
Site Inspection

It is standard practice for our trainer to become familiar with the client's establishment and capabilities beforehand, and to this end a site inspection can be arranged. This site inspection would consist of a walk around all pertinent areas and inspection of relevant spills response kits. Any potential spill or safety issues noted during that walk are pointed out and form part of the trainers understanding of the business.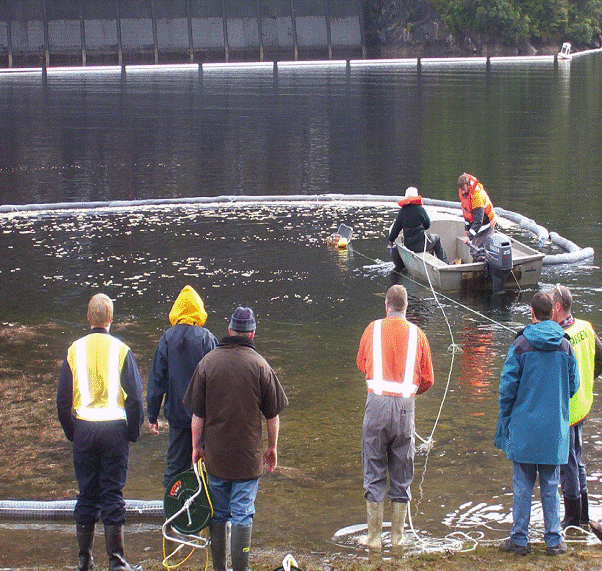 Module 1
Access, interpret and apply spill response documentation, and ensure the work activity is compliant.
Administration
EPA (State) Legislation (personal liability)
WHS (State) Legislation (personal liability)
Liaison with Councils, EPA, Work-Cover, Fire & other Agencies
Company Environmental WMS
Identify and report possible spills risks and hazards to operations and environment
Company SOP's
Risk management
Written Competency-based quiz
15 Minute Coffee Break
Module 2
Coordinate activities with others and establish communication systems to be used during spills
Safety First: Equipment and Personnel Protection
P.P.E legislation (personal liability)
S.D.S Legislation (personal liability)
Company Spill Response Plan
Containment techniques and protocols
Sorbent and sorbent types
Tabletop Demos Spills: (oil, petroleum coolants, and chemicals on water, soil and hardstand surfaces)
The "Seven Steps" in spill management
Written Competency-based quiz
Module 3
Risk Management Use of Sorbents, Spill Equipment and Waste management
Good housekeeping
Dangerous goods
Identify and learn how to utilise spill response equipment
Oil Absorbent Booms
Containment Booms
The containment and Recovery of Oil in Ice and Snow
Management and Effects on Wildlife
Skimmers
Identify and label Waste for Disposal
Waste minimisation and disposal techniques
Toolbox report
Written Competency-based quiz
30 Minute Lunch Break
Module 4
Spill Team Development and Actions
Step 1. Discuss and plan hands on exercises
Step 2. Discuss relevant safety issues and complete
Step 3. Proceed to exercises
Step 4. Participation in group development of Spill Kit Induction
Step 5. Requirements for spill stations and spill kit design
Step 6. On competition of exercises return to classroom, for debriefing on exercises and Course
Administration
Written Competency-based quiz

FINISH Course
Course Reports Contents:
Our policy is to present the client with succinct reports pertaining to spills training and any ancillary inspections and/or practical exercise components of that training, as follows:
1. Preamble
2. General site observations on spill response suggestions
3. Observations on class training sessions
4. Copies of survey forms from participants on Argyle Commercial training
5. Observations regarding existing site spill response equipment
Accreditation Certificates will be forwarded to students and company after the student paperwork has been examined by RTO and payment of invoice has been received
This course is conducted at client sites over four hours which includes a classroom presentation session and practical demonstrations using spill kits and specific spill equipment. Please note that the course agenda time depends on any addition traveling time between spill exercise/s and trainer may need to extend the course without extra costs being incurred.
All participants would have received as handouts during course:
Argyle Commercial Workplace Spill Response 38p Booklet
Comprehensive 123p Reference Manual
Excerpts booklet from Government Legislation
On successful completion of the theory and practical assessments, learners receive either an Argyle Commercial training certificate or a statement of Attainment in a Unit of Competency. ACM Training Services (RTO110084) partners with us for the accredited courses below. An accredited course is a learning programme that meets industry standards and is recognised on the National Qualifications Framework (NQF). This qualification will equip you with a high-quality education and is recognised by employers and other institutes.
Accreditation Certificates will only be forwarded to students and company after the student paperwork has been examined by RTO and payment of invoice has been received.